Central Iowa Agronomics carries a complete line of agronomy products that improve plant health, reduce diseases, and increase yields while being cost effective.
Contact us to schedule a free consultation and to find out more about the products listed below.
Bio Empruv – Healthy to Harvest Video #1:
Watch this short video and learn how corn growers in the Midwest are producing 280 to 300+Bushel/A yields. Bob Streit explains the problems that are affecting plant health and talks about the management and products required to produce high yielding corn. Also included are local farmer interviews.
Educational Series – The secret to raising high yield corn:
This series of educational videos provides significant information in diagnosing the yield limiting problem that is affecting the U.S. corn production. Several of the top and most respected Ag scientists provide solutions to this problem that we call the new Goss's Wilt. This disease has been found from Colorado to Pennsylvania; Arkansas, Kansas, and north to Manitoba. It was also found in the Pacific Northwest last year.
Learn about Goss's Wilt and how this disease is affecting 70 million acres of corn in the U.S.
Learn from the top well-respected Ag scientists and what you can do about this disease.
Learn the solution to the problem and how you can increase your yields from average yields to 280-340 bushels/acre yields.
Learn about Bio Empruv, a monumental disease control product that utilizes nutrition and health promoting compounds that are kind to soil biology rather than being fluoride or chloride based.
Bio Empruv Introduction – an overview of the problem and the science behind Bio Empruv. Top scientists in the country provide specific details for their area of expertise.
Dr. Don Huber: The science behind Goss's Wilt:
Dr. Salam Awada: The chemistry behind Goss's Wilt
Dr. Jill Clapperton: Corn nutrition testing results from Bio Empruv fields using the Bruker X-ray defraction scanner
Ken Hamilton: Bio Empruv – 400 bpa corn program and mineral uptake
High Yield Psychology:
Central Iowa Agronomics uses a high yield psychology with their growers. Anyone can raise average yields. It's like playing checkers but if you're going to move up the yield ladder with corn, soybeans, or wheat the planning and execution process becomes more of a chess game, where there are a lot of moving parts, products, and interactions that need to be coordinated.
Row-placed fertilizer, timed nutrient applications, proven biologicals and emerging hormonal inputs and products all have a role in producing higher yields.
Building your knowledge base is important as is having a team of crop advisors that can lay out a plan for you and provide the guidance that lets you plan properly for each step as it approaches during the season.
Central Iowa Agronomics likes to have each grower challenge themselves on a few fields to test these concepts and see which steps produce the best ROI. Mother Nature still needs to cooperate to reach your yield goals but you will never know until you challenge yourselves and the current production system that you are currently using.
Our research and development team is always networking with colleagues from around the world who have 'state of the art' products and leading technologies that will fit growers in the Midwest.
Yield Results:
In 2015, the top yielding soybean field, using our program and products, yielded 87 bushels/acre and in 2014 the top field made 92 bushels/acre.
Our top yielding corn field, in 2015, yielded 285 – 300 bushels/acre. The photo below shows a central Iowa field that yielded 265 bushels/acre. It stayed green until September 20th and was sprayed aerially near VT.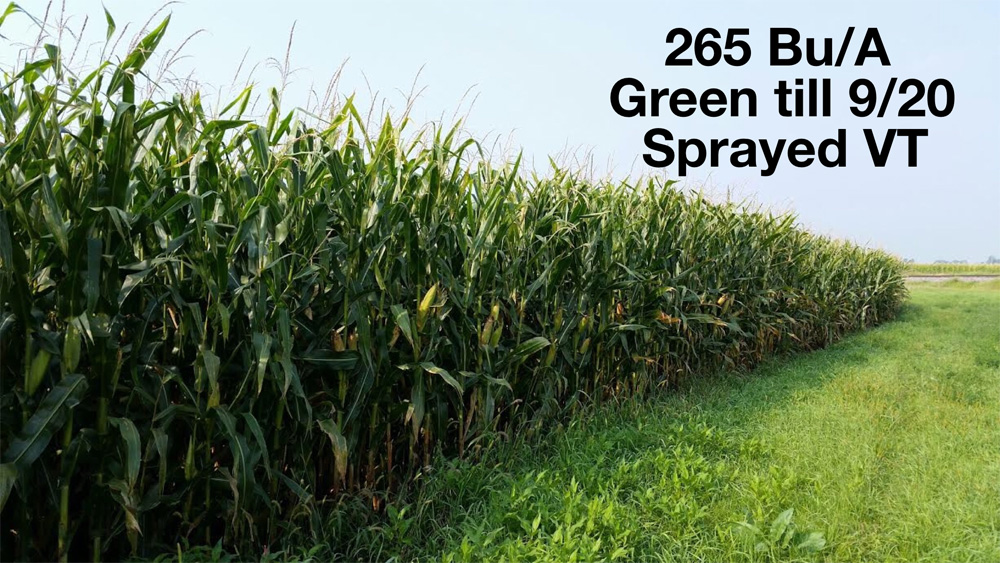 Contact us for more information about our products and to schedule a free consultation.
ABM:
GrapheX
GrapheX SA
Marauder
SabreX
Agnition:

Commence
Generate
Agri-Guardian:

Micro Mix Complete
Ignition
Foliar Blend
Foliar Minerals – Zn, Mo, Cu, etc.
BioDyne Midwest:
BioDyne 401, 501, 801
Bio-Minerals Technology:

Bio-Empruv
Bio-Release
Bio-Mineral Seed Treatment
BRT:

Seed Set and Kindness Biologicals
Full Sircle:

Super Trace
MPK
0-0-25-8
KQ-XRN 25% Foliar N
LidoChem:

Argosy
Nutri Smart
Varnimo (in furrow SCN control)
Planters II (mined organic gypsum)
Organic Supply:
SPE 120 – Season long insect controlling fungus
Redox:
Mainstay Si
Root Rx
Renewable Farming:
Wake Up